Sunday evening viewing is beginning to acquire that 'stay at home and unplug the phone' imperative that The Killing brought to Saturday evenings with another import, this time not from Denmark but from the US in the shape of Homelands*, Channel 4. Whilst I won't say it's entirely without fault I have to admit I'm hooked and I was especially interested to read that when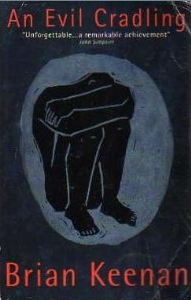 researching the lead role of Sergeant Nicholas Brody, Damian Lewis , who in my book is spellbinding and utterly convincing, drew on the experience of hostage Brian Kennan by reading Kennan's An Evil Cradling.
First published in 1992 An Evil Cradling is a book that I read on publication – I was always  interested in the fate of the hostages. It is also a book that will never leave me. I've bought a number of copies over the years, given a number away, urged people to read it, while being aware that despite its poetry, it is at times painful beyond measure.
In his preface Kennan says that this will be an attempt to reveal men 'in extremis.'  He makes no excuse for the therapeutic intent behind the writing: his desire to imprison the madness he experienced on paper. But he writes in such a way, and with such eloquence, that what might have been the pouring of sickness onto the page and nothing more -"One sheds ones sickness in books- repeats and presents again ones emotions, to be master of them."― D.H. Lawrence –is in fact a rich, complex and defiant journey through the landscape of terror, the relationship between captor and hostage, the experience of captivity and the triumph of humanity and perhaps most remarkably – love.
Working as I did for so many years in prison it's perhaps not surprising that this book, when it arrived, had such a profound effect on me. It was, and for me still is, the book that takes us closest to the nature of imprisonment in all its manifestations: despair, humour, language, violence, paradox, intimacy, compassion, imagination and memory. It reminds me every time I pick it up of the power of good writing to get at the truth.
Come now into that cell with me and stay here and feel if you can and if you will that time, whatever time it was, for however long, for time means nothing in this cell. Come, come in.
An Evil Cradling – Brian Keenan
* If you want to catch up with Homelands there's 40D of course or read the excellent reviews in The Telegraph