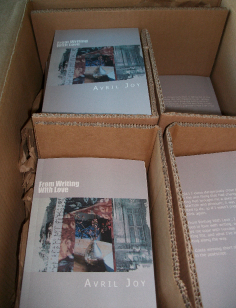 I just can't resist showing you my box of books which arrived yesterday!  There is nothing like the thrill of opening up a box of books – these feel particularly smooth and velvety and smell like all new books. I like the matte cover and my own collage design. I like the words too. I like everything about it – well almost – I found something I want to change – but the beauty of  Print On Demand means that's more than possible..
From Writing With Love is available in both hard copy and as an ebook
Below is an extract on the question of Truth in Writing:
Being true to ourselves as writers is the only way to find success. I've learned this the hard way. It's very easy to get seduced by the possibilities of success and the lure of agents and editors. It's not difficult to find yourself losing your way and writing something that's not true to who you are. I've done it. I've written more sex into a book to please an agent. I've written crime fiction, invented a serial killer, ditched one book and moved onto the next, and more…
I forfeited truth for the chance of what I believed might be success. It was not all bad of course, I learned a lot about my craft along the way, especially through writing crime fiction, but I ignored the good advice of one of my first editors who told me to stay true to myself. So while I learned things, I lost things too. I lost some of my original spark and it took me time to find it again….