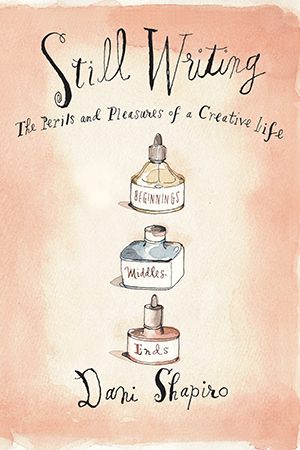 One of those rare books that is both beautiful and useful. Still Writing is an exploration of the writing life, lit up by Shapiro's luminous voice. Susan Orlean
Every now and again it's possible to unearth a treasure.
I thought I'd bought and read most of the good and important books on writing but I hadn't reckoned with Still Writing, by Dani Schapiro.
Still Writing arrived in the post this week and I read it in a day, refusing to put it down, apart from to make coffee and grab a sandwich. It was published in 2013. How had I missed it?
From page I was captivated and inspired and couldn't resist taking out my pencil and underlining almost everything (after a while I had to be more selective.)
So why is it so good and why should you own a copy? (And no, I'm not on commission) Here are 5 reasons – if pushed I could come up with 50.
• Because she writes with love and passion but with the understanding of what it is to be a writer and the difficulties that brings.
• Because she talks of courage, endurance, rejection, the inner critic, the blank page, the big idea (a myth?), envy, beginnings, middles, ends and so much more.
• Because she is honest and she puts herself on every page.
• Because she makes me smile – as in 'The Short Bad Book,' a great approach to the writer's fear of failure and how having too much at stake can interfere with our writing.
• Because its full of her hard-earned wisdom, it is entirely human, because there's much to learn here and much comfort to be found. (4 reasons in one)