Anne Goodwin – My Writing Room
I share this study at the front of our house with my husband, but my attitude to sharing is easy to discern from my ability to take a photograph of the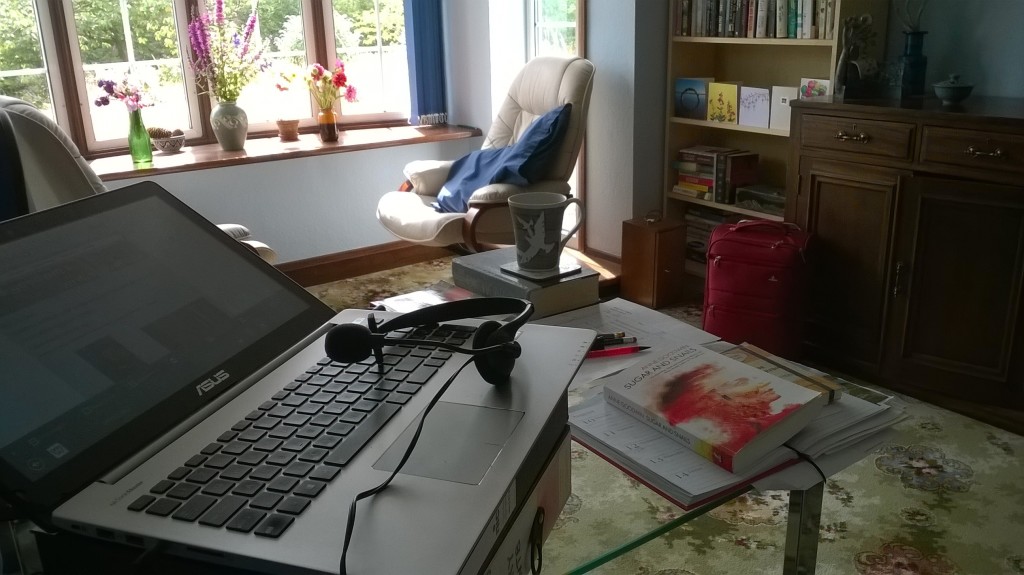 room that completely cuts out his desk. In my defence, he has less need for a desk than I do but, as it's the sunniest room in the house, it's pleasant to sit and read by the window, especially in winter. He gets his chance when I'm out and on Saturday mornings when we share the Guardian over coffee and croissants.
This photo is also testament to the physical strain of spending day after day at the computer. The headphones atop my keyboard for the voice-activated software I've relied upon to put words on the screen for the past decade or so, an aid necessitated by chronic repetitive strain injury brought on as much by my former day-job as my fiction writing. Although, despite the manufacturer's claims, I find it slower than my typing, and the fact that I don't always notice the errors it makes because they don't look like typos, I couldn't be a writer without it.
I've been using this makeshift standing desk (two box files on my ordinary desk to raise the height of the computer) for about six months now, and I've become so accustomed to standing, it rarely occurs to me that I could sit down. While I'm sure it's healthier having the freedom to move around more as I write, I seem to have replaced writer's arse with writer's heel, a complaint I haven't yet seen trending on Twitter.
The room has two bookcases, one on either side of the teak-coloured cupboard. They're fairly new – hence the space for the lovely cards congratulating me on the publication of my debut novel – bought to store the increasing quantity of books coming into the house since I became a book blogger. While the main "library" is still located between another two rooms, it does seem bizarre to me now that, for a few years, I had a writing room with few books apart from a dictionary, thesaurus and TBR pile threatening to topple off my desk.
With only three weeks since my publication debut, I think I can be forgiven for keeping a copy of my novel on the desk. Beyond it, alongside the bookshelves, is the smart red case I bought for transporting copies to events.
As a lover of the outdoors, I enjoy being able to look up from my screen to see my garden through the window. At the moment, the uncut grass is threaded with wildflowers while, towards the boundary wall, the buddleia is bringing in the butterflies. In early spring, a flowering cherry dominates the view. In winter, if the weather's right, I might look out into the eyes of a snowman.
Although the carpet offends my aesthetic taste, it's such good quality, we're loathe to replace it. Most of the time, I tend to filter it out, but couldn't find a way of hiding it in the photo, the glass-topped desk revealing even more. But I do hope that hasn't put you off looking around my writing room. Thanks for visiting.
Anne Goodwin writes fiction, short and long, and blogs about reading and writing, with a peppering of psychology. Her debut novel, Sugar and Snails, was published last month by Inspired Quill. Catch up on her website: annethology or on Twitter @Annecdotist.