They came in their droves, not deterred by the journey, the rain and the floods – they came to the small seaside fishing village of Cullercoats on the North East coast to celebrate 40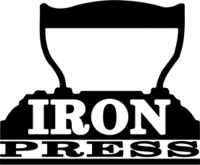 years of Iron Press – in poetry, prose and music. And even the man himself, founder of the original Iron magazine and the Press, Peter Mortimer, was stunned by the response; 'We can say we were there…' he told a packed audience on Saturday evening after a breathtaking set by Bridie Jackson and the Arbour, followed by Iron's most famous son David Almond - (Iron published two collections by David before he became a national figure) who read with a power and lyricism that I've just never encountered before; a reading that was as much music as prose.
David made clear his debt to Iron – he has dedicated his collection of stories – Nesting – (if you're serious about writing buy this book for the introduction alone ! ) published by Iron for the festival – to Pete and Kitty. Where would writers be without the small presses he asked? Where indeed?  My first novel would probably not have been published without Flambard Press who after Arts Council cuts are sadly no more. But I'm glad to say Iron Press is alive and well, due in no small measure to the indefatigable spirit of Peter and to the lovely and hard working Kitty Fitzgerald who on Saturday afternoon enchanted the room with her reading from her soon to be published collection Miranda's Shadow.
The Salt House provided an excellent watering hole for festival goers- coffee and cake, panninis, fries, wine, comfy sofas, as well as music and poetry, while on the beach the band played Beyonce and Dody Clutch made a symbolic flat iron birthday cake in the sand around which  band and followers duly processed. The atmosphere was all celebration and carnival – it felt like a festival should, not like the Lit fests we have come to know and shun. No flaunting of celebrity, just a wonderful gathering – I've barely scratched the surface here there were lots of other events: readings, pool tournaments, a two and a half mile run, haiku workshops, and to top it all Melvyn Bragg on Sunday evening – like I've said, just folk out to enjoy themselves, and didn't we have fun!
Congratualtions to all at Iron Press for pulling off the literary coup of the festival year – long may you publish!
SORRY – I failed to take any photos but my companions did – for some great words and pictures see Life Twice Tasted!