About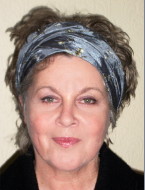 I was born and brought up on the Somerset Levels, the setting for my first novel, The Sweet Track, published in 2007 by Flambard Press.
I left Somerset at eighteen for  U.E.A, and a degree in the History of Art, then lived in London where I taught in Greenwich and Deptford and did a year at Goldsmith's before moving north.
I travelled in India, Kashmir and Nepal for a while and when I came back I started work as a temporary teacher in a women's prison HMP Low Newton, on the outskirts of Durham city.  I met Writer-in-Residence Wendy Robertson here and that's when I began writing. Until then I had no thoughts of being a writer.
In 2003 I won a Northern Promise Award, from New Writing North.
When the children were up and leaving home, I finally left my job in order to write. I was by this time a Prison Governor with responsibity for learning and skills development. I hadn't meant to stay at Low Newton for so long but almost from the start I became deeply involved with the women and their lives – read more here and in many ways that never leaves me. I see it creep in again and again, often through the back door, into what I write.
Save