On Tuesday I read at a Fictions of Every Kind Evening in Leeds – it was a great night – here are just 10 things I loved about it
1.The uber cool venue – Wharf Chambers 'arguably Leeds' most 'underground' bar!' (Justin R) It's in Wharf Street off Kirkgate which contains the only surviving remains of medieval Leeds.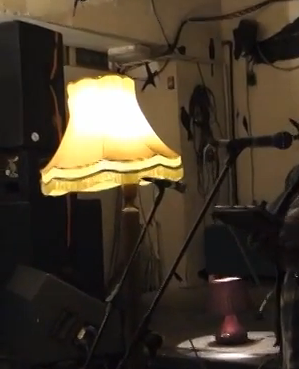 2.The vintage standard lamp and shade you stand next to when you read.
3.The democracy of the open mic – there were some great and brave readings (it takes guts to get up there) – my personal favourite was Finn's. Great to talk with her too.
4.Meeting the lovely and talented writer Zoe Lambert and likewise writer and organiser S J Bradley
5.The encouragement cards and pens on elastic, for open mic readers – 'Do what you love…Don't listen to anybody else who tells you not to do it' 'You don't learn to write in College,' Ray Bradbury.
6. These Men – the brilliant and amusing acappella band. Check them out HERE.
7. Going with my daughter and her partner – they live and works in Leeds, so a night out with them is a real treat.
8. Reading to a truly appreciative audience – it's always a buzz, and this was no exception.
9. Talking to Dulcie and her mum – I really enjoyed being around so many young people who are so serious about writing and love it so much.
10. The crowd – back to Justin R here: 'the crowd can get a bit 'hippyish' at times; full of anarchists, vegans, ageing hippies, poets, underground artists, socialists, etc.'
My kind of place – thanks so much for having me. And of course I should have added, it all happened here in the NORTH!