I've just come from reading at the Iron Eclectic Festival in Cullercoats. The sea was always within view from our second floor seafront flat – we could see it from every window, and almost touch it. Watching the tide come in and out was hypnotic and deeply relaxing. On Wednesday a giant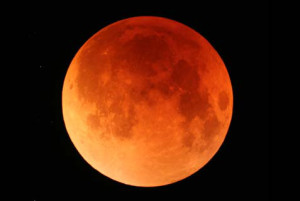 red moon rose over the sea as if in celebration.
On Friday evening I read from Millie and Bird  in the RNLI, the sea on three sides. I read The Trouble with Holy Island which seemed appropriate with the North Coast stretching away at my back. It was a wonderful and memorable place to read with a really appreciative audience.
On Saturday singer songwriter Katie Doherty sang 5 songs and poet Colette Bryce did a reading in the same room at the RNLI. I came away from the event inspired, sat in a cafe across the road, my head filled with songs and words and wrote the bones of a poem, which you can read below.
A rare reading by Tony Harrison made Saturday night very special indeed. Then to the Salt House – late night festival hub (perhaps more red wine than I'd planned). Sadly I had to come away today. I do so tired but as always inspired by Iron Press and everything they do…
Songs and Words for the People –
(on hearing Kate Doherty and Colette Bryce)
There's a smell of patchouli in the room
waistcoat, haircut and boots,
poets gather like a kite-string of gulls
chasing the catch,
and at the piano, 'waiting for something warmer,
songs for people who deserve them,'
a whisper of spells.
Under soft lids and fringe, in quiet tones
you speak a litany of poems.
Hermit crabs and lobsters crawl from your page
make me want to peek inside the laboratory
swim under John's blue fingers
live by the sea in winter.
Coming out and the steps
slow for breath
crossing the road
to the Beaches and Cream cafe
opposite the sign for the university.
The Dove Marine laboratory fixes me through
the open door
and tethered flags fight the wind
wanting to be a part of it, straining
loose from Culfre-cots, across intertidal
pools and rocks to Whitley Bay
bearing the scent of patchouli and salt
to sea a flock of words and songs.